It has been 237 days since we have gotten an official Kickstarter update for Kingdom Death: Monster 1.5, which is… a while… to go without an update for a project.   After a very lengthy update on Black Friday 2018 (where Adam said that Wave 3 and 4 of the Kickstarter were indefinitely delayed until he was happy with them), Adam went more-the-less completely radio silent for the first half of 2019.   What little communication we got from him via Twitter and Kickstarter comments was that he was focused on getting Wave 3 content done, and the next official update would be in early August to coincide with Gen Con 2019.
To my and others' pleasant surprise, Adam actually logged on to Kickstarter a couple of days ago and ended up answering a bunch of questions people had.  While he didn't get into any specifics had about the status of Wave 3 and 4, he did confirm that the big Gen Con update was coming and what we should expect in it, as well as answered a couple miscellaneous questions people had about upcoming expansions.  I went through each of them and categorized/summarized them here, and thought I would share them for your reading pleasure:
THE BIG GEN CON UPDATE
The Gen Con update is going to go live either right before the KD:M team leaves for Gen Con, or on the floor from Gen Con.   The update will have details on the status of Wave 3 and why it's taking so long.  Adam said the update will have updates on every single expansion in Wave 3 and Wave 4, which by my count is 17+ expansions, more if you also include promo and crossover content.  The update may end up being so massive that he may split it into two separate updates.  If that's the case, the pre-Gen Con update would focus just on Wave 3 content (Gambler's Chest and Campaigns of Death), and a second update in August after Gen Con would focus on Wave 4 (the 15+ other things).
At the very latest, we should expect the update by August 4, which is 18 days away (likely earlier), the wait is almost over!
WAVE 3
Adam was hoping to have Wave 3 printed and on boats by now, but it's not.  He will give more specific details in the big update.
The Gambler's Chest has been expanded significantly beyond what was initially pitched.  Advanced Kingdom Death: Monster tells a specific story about an advanced group of survivors, it sounds like it is its own story arc campaign, and it may not integrate with all expansion content.  The Crimson Crocodile is 100% confirmed as a new Node 1 quarry monster that is part of Advanced Kingdom Death: Monster and comes in The Gambler's Chest.  The previously to-be-revealed monster encounter that comes in The Gambler's Chest is still a thing and they are called Smog Stalkers.
The Strain System will track campaign-to-campaign changes on a meta layer sheet called a "death world", so you can theoretically reset everything if you wanted to (no permanent changes like a legacy game).  The Strain system allows Adam to release smaller content that is more meaningful. Changes introduced by a Strain milestone could be as small as a new fighting art to as big as a new campaign story arc.
Adam feels that both Gambler's Chest and Campaigns of Death are must-haves, and set the stage for what's to come.  There is no plan to make 1.5 reprints of the original expansions, you will need to buy Campaigns of Death for the 1.5 updates to them.
WAVE 4
Wave 4 may get broken up into smaller waves, with some of the smaller expansions and promo content coming sooner.  Some expansions are close to being done, while others have barely been started on. The Abyssal Woods is the furthest out, but Adam has promised that it and every other expansion will get made.  The Abyssal Woods is the expansion he is most excited about. There have been no major overhauls to what was pitched for the Wave 4 expansions, Gambler's Chest and Campaigns of Death were the biggest changes.  They have gotten better at engineering for plastic production, so there may be additional models in some of the expansions.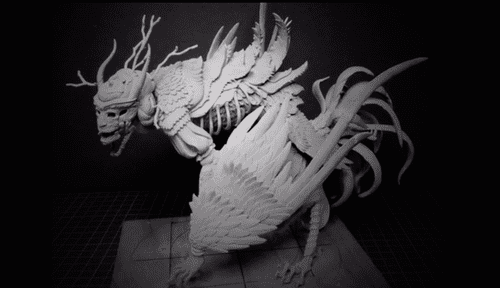 Adam also answered some miscellaneous questions about some Wave 4 expansion stuff:  
Campaigns of Death is not required for using Spidicules/Flower Knight/Dung Beetle Knight in the Abyssal Woods expansion

Super Saviors vs Perfect DBK takes place in a survivor's dream, so it's going to be more ridiculous than a standard showdown.  Dung Beetle Knight does not integrate with this expansion in any way.

Parasite Queen is an optional encounter in the Screaming God expansion, but may end up becoming a final encounter

There is a story related to the Survivor Satan model in the Ivory Dragon expansion
THE FUTURE
Future projects beyond the 1.5 Kickstarter are not a top-priority for him at the moment.  He might end up letting somebody else develop Kingdom Death: Titan (his deckbuilder) if and when that gets made.  He might revisit The Lantern Festival at some point in the future (haha okay).  No plans to make new dice variants.  He wants to update the FAQ for the 1.0 expansions after Gen Con.
MISC
Adam acknowledged that he has been bad about updates and apologized for the lack of communication, but we've heard this all before, so don't take this as any sort of promise we're going to see more regular updates.  For what it's worth, he did log back on the following day and answer a few more questions.  
WHAT DO I THINK?
I'm guessing that the update on Wave 3 will get posted the night of July 31, the night before Gen Con opens, so he can include a picture of the booth as part of the update.  I do expect that he will split the update into two sections as he alluded to.  I'm alright with that, as all I really care about at this point is the status of Wave 3.  Given that he was hoping to have Wave 3 on boats by now, that gives me some sliver of hope that it may currently be at the printers and we might actually get it by the end of the year.  I'm not holding my breath for any sort of release date announcement, but if he gives us some sort of status update as to where it is in production/assembly, that would give us some insight into when to expect to get it.
I'm not really sure what to expect in terms of gameplay and content details of the expansions, since Adam typically doesn't spoil much in advance.  He typically shows all the models in advance, so we should see renders/pictures of Atnas, Crimson Crocodile, Smog Stalkers, and any other monsters not yet revealed that are part of Wave 3.  It would be nice to get some updated manifest of what is in The Gambler's Chest and Campaigns of Death, since they have changed so much since the Kickstarter.  It would also be great to get a high-level pitch of the changes being introduced to Spidicules, Dung Beetle Knight, Lion Knight, Dragon King, Slenderman, and Green Knight Armor, as he did with the other 6 expansions in the Black Friday update.
As for what's beyond Wave 3, I fully expect it to get broken into smaller waves.  I think this would be a good thing, as that means we may get some content sooner than we would if we had to wait until it's all done.  Specifically, I think it's going to break up into 3 waves:
Wave 4 – This will be the promo/crossover content and expansions that don't tie into the Inverted Mountain or Abyssal Woods campaigns.  First Hero for sure will be part of this wave.  I'm not sure if all of these would be part of this wave, but other candidates would be Screaming God, Ivory Dragon, Silver City, and Death Armor.
Wave 5 – Inverted Mountain, and all the associated expansions: Frogdog, Oblivion Mosquito, Nightmare Ram, Black Knight, Pariah, Red Witches, and Gryphon
Wave 6 – Abyssal Woods and Honeycomb Weaver
I'll be sure to post my thoughts about the big Gen Con update and any other information we hear from the floor at Gen Con.  We've waited so long, what's another two weeks?